"As an artist, you always have to reinvent yourself"
– Marilyn Manson
• Author, artist, singer, rocker, director, provocateur and cultural icon MARILYN MANSON will present for the first time in Mexico his work as a fine artist.
MEXICO CITY, October 24th, 2011
Author and Artist, MANSON, will be visiting Mexico City during the month of November to present his newest exhibit "The Path of Misery". MANSON, Inspired by Egon Schiele, post-war vienesse vanguard artist, Salvador Dali and fascinated by the grotesque and degenerative, shows us his interior by means of his fine art depicting stylized and decaying figures. MANSON has presented his paintings in several solo exhibitions in various museums and galleries in Vienna, Los Angeles, Paris, Berlin, Miami, Moscow, Cologne and Sao Paulo, amongst others.
The exhibition named "The Path of Misery" opens to the public on November 4th at the Museum Antiguo Colegio de San Ildefonso and will be organized and produced by 212 Productions with the collaboration of the Museum Antiguo Colegio de San Ildefonso.
For additional information regarding MARILYN MANSON´s "The Path of Misery" please contact Press Services or visit: www.marilynmansonmexico.com

Transgression and darkness are words that define Marilyn Manson. In accordance with his music, his artwork is governed by a personality that causes charm in some, while rejection in others . Although he is widely recognized within the music industry, as the creator of albums such as The Golden Age of Grotesque & Antichrist Superstar, Marilyn Manson also paints.
For the first time in Mexico, the latter aspect will be unveiled at an exhibition that seeks to bring together his most recent work.
Exhibition
The Path of Misery
Antiguo Colegio de San Ildefonso
Justo Sierra 16, Centro Histórico
Ciudad de México (DF) México.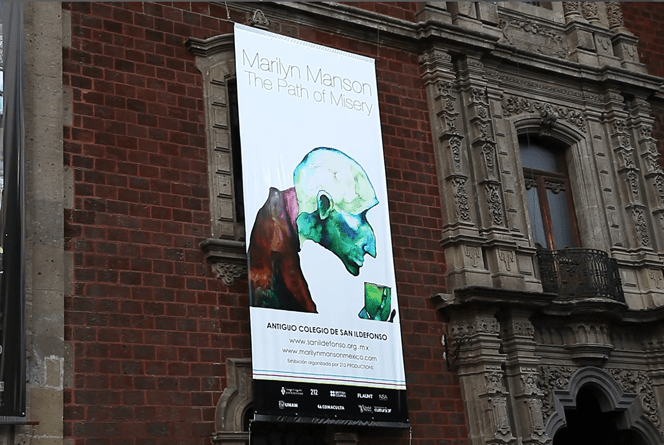 November 04 – 2011 |  January 05 – 2012
November 02, 2011
Acredited Media Only